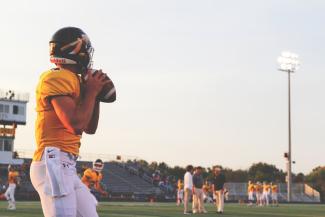 Building Your Financial Football Team
Planning your finances isn't easy, and is never a one stop shop.  You generally need a team of professionals to properly manage all of the many complicated aspects of your financial world.  I like to use the analogy that assembling your team of professionals is like being the head coach building a football team.  You need running backs, wide receivers, tight ends, linemen, and of course a Quarterback. 
You can compare those positions to the different aspects of managing your finances; You need an all-star Life insurance wide receiver to make sure you have the proper coverage for you and your family.  On his flank, you need another receiver to handle your car, home, and personal liability insurance.  You need a tight end to make sure you have proper health insurance coverage and a set of solid lineman accountants and attorneys to ensure your tax needs and estate planning are properly handled.  You need a Hall of Fame quality Running back to handle the investing of your retirement savings.  Behind all of it though what you need is a Quarterback, someone who you can trust to go in to the field and call the right plays and audibles to get the ball to the right person on the field at the right time.  Someone who has the contacts for all of these different "players" and can save you the stress of finding trustworthy and competent people. 
At AMS Resources Network that's what I do, I'm your financial quarterback.  My network of "players" has a combined experience of over 100 years in the financial world.  From Investment Advisors to Insurance Agents to Lawyers or accountants AMS Resources Network has the right network of professionals to provide anyone in need with a winning team of players.  Get in touch today to start your path towards winning your personal Super Bowl!